School Fundraiser
Please call (417)443-6300 for more information on our school fundraiser program.
PLANT DESCRIPTION
Burkwood Viburnum
This Viburnum has fragrant flowers in rounded clusters. Flowers are pink in bud, opening to white (mid-spring). Fruit changes from red to black in late summer (usually borne in small quantities). Autumn color is wine red, but not consistent from year to year. Full sun to partial shade is best. Moist, well-drained soil, preferably acidic, but will tolerate alkaline soil. 8 ft. tall x 6 ft. wide.
Variegated Weigela
This shrub has beautiful pink trumpet shaped flowers that cover it from mid spring to early summer. The blooms are highlighted against the green and white foliage. Extremely hardy plants thrive under almost any condition, they have a naturally dense habit and respond well to light pruning. Attracts hummingbirds. 3-4 ft. tall x 3-4 ft. wide.
Wintergreen Boxwood
This boxwood has a medium to slow growth habit that makes them perfect for a low maintenance hedge or border. These evergreen shrubs look great all year round with lighter colored leaves in spring that will fade into a uniform green in summer. Boxwoods are noted for their high tolerance for harsh conditions and their ability to withstand heavy pruning. 3-4 ft. tall x 3-4 ft. wide.
Miss Kim Lilac
Is a compact and uprightrounded in form lilac. It has an abundance of fragrant blooms in spring that are dark lavenderpink in bud and fade to a pale lavender-pink when fully opened. The blooms are even more abundant when planted in full sun. 6-8 ft. tall x 5-7 ft. wide.
Goldflame Spiraea
This spiraea is a dense, upright, compact, mounded deciduous shrub. The narrow leaves emerge in spring in shades of copper, rust, and yellow, turning to a medium green during summer, and then becoming a brilliant flame color in the fall. Lovely pink flowers bloom profusely in small corymbs and cover the arching stems of this plant in late spring, attracting butterflies. 2-3 ft. tall x 3-4 ft. wide.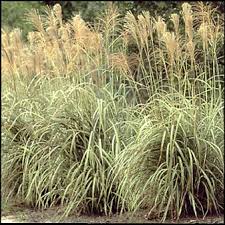 Variegated Maiden Grass
This variegated grass is a striking bold plant that is great for borders. Its long arching blades are green with broad streaks of ivory. In late summer to fall plants produce tall, upright stems topped with feathery rose-hued plumes that soften and curl as they dry. 5-7 ft. tall x 3-4 ft. wide.
Tulip Poplar
This tree gets its name from the flowers that it produces, distinctive green and orange tulip-shaped flowers, that grow high up in the tree during the months of May and June. Duck-bill shaped buds appear in the winter. Fast growing. 70 ft. tall and 30-30 ft. wide.
Sycamore
This tree produces large leaves that are deep green and can measure up to 6 inches across. The tree will turn bright yellow in the fall, making for a beautiful touch of color and the end of the growing season. Grows 75-100 ft. tall and 50-75 ft. wide
Red Maple
Brings color to your landscape year-round. Green stems turn red in winter; new leaves are redtinged, turning to green. Fall color is deep red or yellow. Flowers are also red. Fastgrowing and tolerant of many soils. Grows to 40-60 ft. tall x 4 ft. wide.
Whitespire Birch
An elegant tree with chalk white bark and amazing fall color. Whitespire's showy bark does not exfoliate and it's strong, central leader promotes a refined pyramidal form. Bright green leaves and dangling catkins provide summer interest, with green foliage merging into brilliant yellow for fall color. Grows 20-40 ft. tall x 10-20 ft. wide.
River Birch
The curly, paper-thin, and pinkish tan bark of the young trunk is attractive all year. The species is valued for its relatively rapid growth, tolerance of wetness and some drought, unique curling bark, spreading limbs and relative resistance to birch borer. Grows 40- 70 ft. tall x 40-60 ft. wide.
Kousa Dogwood
…Beginning in early summer, white bracts (sometimes with pink tinges) surround tiny green flowers. These are followed by reddish fruit that resembles raspberries and attracts birds. Autumn color is a deep reddish purple. This species is resistant to disease and has good cold hardiness. 20-30 ft. tall x 20-30 ft. wide.
Redbud
One of the first trees to flower in the early spring, blooming petite pink flowers in large clusters. These colorful blooms appear in late winter or early spring. Soon after, dark green, glossy leaves begin to form a beautiful backdrop, making the rosypink blooms stand out even more. Ideal for tight places or small lots, but will brighten up even the largest yards. 20-30 ft. tall x 15 ft. wide.
Roselow Sargent Crabapple
In spring, clusters of deep pink buds open into fragrant, white flowers. Bright red fruit follows later in the season and persists into the winter. It is an alternate bearer, blooming heavily every other year. Useful for planting under utility lines, in confined yards, as privacy screens and hedges, or on sloping ground. 6-10 ft. tall x 9-15 ft. wide.
Serviceberry
The serviceberry tree blooms in early spring with beautiful white flowers, developing into tasty purple berries in early summer. Bright green or bluish-green leaves turn stunning shades of red and orange in fall, and its silvery bark offers winter appeal. 15-25 ft. tall x 15-25 ft. wide.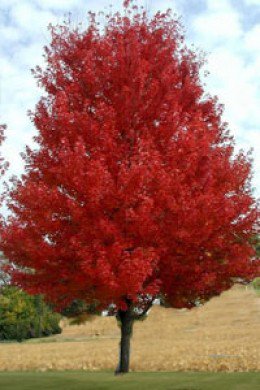 Amur Maple
This tree is adorned with fragrant yellow blossoms from April to May and are followed by dark green and deeply cut foliage. In fall, the foliage turns to an extremely attractive red and orange. This moderate growing tree can be grown in a wide range of soil conditions and exposures. 15-20 ft. tall x 15-20 ft. wide.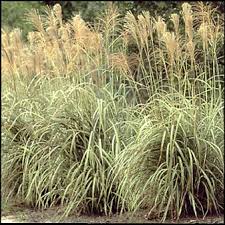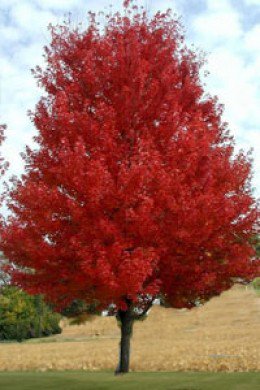 To download the school fundraiser order sheet click here.
Prices
3/5 Gallon Shade Trees
Red Maple
Tulip Poplar
Sycamore
Whitespire Birch (clump)
River Birch (clump)
Bald Cypress
3/5 Gallon Ornamental Trees
Kousa Dogwood (multi-stem)
Redbud (low-branched)
Roselow Sargent Crabapple
Serviceberry (multi-stem)
Amur Maple (multi-stem)
3/5 Gallon Shrubs
Burkwood Viburnum
Variegated Weigela
Wintergreen Boxwood
Goldflame Spirea
Variegated Maiden Grass
Miss Kim Lilac
Your
price
$19.00
$19.00
$19.00
$19.00
$19.00
$19.00


$19.00
$19.00
$19.00
$19.00
$19.00


$15.00
$15.00
$15.00
$15.00
$15.00
$15.00
suggested retail
price
$32.50
$32.50
$32.50
$32.50
$32.50
$32.50


$32.50
$32.50
$32.50
$32.50
$32.50


$24.50
$24.50
$24.50
$24.50
$24.50
$24.50